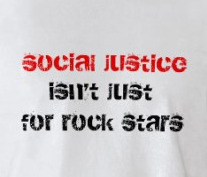 Except for the minor­ity sil­ver spoon crowd, most peo­ple work hard for their money and reward them­selves and their clan with mate­r­ial pos­ses­sions of exces­sive com­fort when they can, above and beyond basic neces­sity. The per­son with the biggest man­sion, most money or friends, best looks or high­est bowl­ing aver­age doesn't win and when you're dead it doesn't mat­ter. Though it's nat­ural to not want life to end its inevitabil­ity is cause for some to want to leave a legacy. Lega­cies are usu­ally not about how rich you were but what impact you had on soci­ety — pos­i­tive or neg­a­tive. And while often that has some­thing to do with phil­an­thropy, per­haps more often than not it doesn't. Plenty of peo­ple go down in his­tory for other than their eco­nomic sta­tus.….. Money and infamy are not nec­es­sar­ily bed buddies.
Just like argu­ments over which reli­gion is the true one or if god(s) even exist at all — the debate over the right type of gov­ern­ment is one that has no uni­ver­sal answer, just per­sonal pref­er­ence. Ultra con­ser­vatism, left-wing lib­er­al­ism, safe non-committal cen­tral­ism, there must be as many terms for polit­i­cal view­points as there are reli­gions, which in some coun­tries are all tan­gled up to begin with.
So, I want to know what the big deal is in regard to try­ing to make life tol­er­a­ble for every­one when in the end we are all going to die and –
You can't take it with you
Why are we so cal­lous and hard to the core that we are capa­ble of watch­ing those with­out and allow it to hap­pen, able to sleep at night know­ing oth­ers are hun­gry, rid­den with ill­nesses that have cures but not med­ica­tion, hav­ing pic­nics and going to par­ties while there is geno­cide and war going on? It mat­ters that it's in another coun­try, state, town or home? As long as it's not us, it's OK?
Social jus­tice doesn't have to come from a reli­gious per­spec­tive or a social­ist or com­mu­nist one either – regard­less of what Glenn Beck says.
I could give a fly­ing crap about the polit­i­cal process, — Beck tells the new issue of Forbes mag­a­zine (Forbes.com). "We're an enter­tain­ment company."
Though it's likely not achiev­able in any soci­ety it's a an con­cept to strive for and a bar to aspire to. The human con­di­tion and inevitabil­ity of death aren't suf­fi­cient bond­ing expe­ri­ences and moti­va­tion enough to do not only what one can for one­self but to uti­lize intel­lect and abil­ity as appro­pri­ate to do more, to use those qual­i­ties so that oth­ers might expe­ri­ence a more humane life or sim­ply have the respect they deserve?
Why don't we want this for oth­ers, demand it for every­one? Help me out here.…