Via Scoop.it – Labor and employee Relations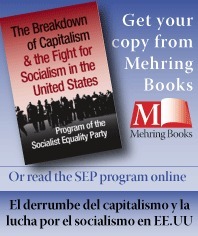 The medical benefits of approximately 820,000 retired auto workers and their spouses in the US are in danger of being sharply reduced or eliminated outright, as the retiree health care trust fund, run by the United Auto Workers union, is in danger…
Via www.wsws.org

Related posts:
Court of Appeals enforces NLRB order, finds investment fund manager jointly liable for unlawful acts at Hawaii resort NLRB rules against company AND private equity firm jointly…
Fighting the end of unemployment benefits Image via Wikipedia Lifeline for America? This post is…
Ralphs, Albertsons Supermarkets Could Close if Grocery Workers Strike – ABC News Via Scoop.it – Labor and employee Relations The "Big…
Related posts brought to you by Yet Another Related Posts Plugin.
Want to link to this post? Copy what's below and paste into pages, emails etc.