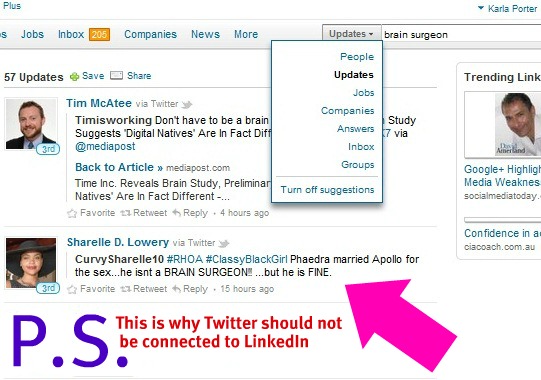 Many
peo­ple cre­ate a LinkedIn pro­file as a vir­tual busi­ness card,
never look back and never reap its true net­work­ing rewards.
In the upper right hand cor­ner of every
page on LinkedIn is a site search with 'peo­ple' as the default. The
com­mon use of the search field is to look for peo­ple you know or would
like to con­nect with. Many peo­ple don't real­ize the box drops down
to 7 fab­u­lous search fea­tures, each with their unique benefits.
Even the busiest, most time con­strained
per­son can upgrade their online net­work­ing activ­ity by spend­ing
even 15 min­utes a week with my drop down tech­nique on LinkedIn.
It's great for peo­ple who need a
lit­tle guid­ance and struc­ture to their online net­work­ing to
opti­mize their LinkedIn expe­ri­ence. I hope you'll like it and find
your­self with a new cof­fee rit­ual in the morning.
Peo­ple — Take the busi­ness cards you col­lected
dur­ing the week and check your cal­en­dar for the upcom­ing week's
meet­ings and con­nect. Per­son­al­ize the invi­ta­tions by let­ting
your new con­tacts know you would like to stay updated on their
activ­ity via LinkedIn. Your net­work and access to the net­work of your
new con­tacts will grow quickly.
Updates — When you search updates you are
search­ing the global LinkedIn net­work. Use key­words for your
indus­try, pro­fes­sional inter­ests, some­one in the news, tech­nol­ogy
— any­thing you would like to see the net­work per­spec­tive on. Click
on pro­files of peo­ple you would like to know more about and if you're
inter­ested — connect.
Jobs — Search jobs even if you love yours. Stay
abreast of posi­tions at the com­pe­ti­tion, learn who could use your
ser­vices as a con­sul­tant dur­ing a gap, see where the turnover is —
in short, job posts reveal a lot of infor­ma­tion even for non job
seek­ers. If you are look­ing for a new oppor­tu­nity you'll see who
you're con­nected to that could give you insider info and walk your
resume to the hir­ing man­ager or HR.
Com­pa­nies — The com­pany pro­file is the per­fect
place to find con­sol­i­dated infor­ma­tion on news, recent com­pany
and employee activ­ity, demo­graph­ics, who you are con­nected to there,
job open­ings and stock info if applic­a­ble. It's a great way to help
pre­pare for an inter­view or upcom­ing meeting.
Answers — Search key­words to find con­ver­sa­tions
you can par­tic­i­pate in with the global LinkedIn net­work.
Crowd­source infor­ma­tion and opin­ions, help build your rep­u­ta­tion
as a sub­ject mat­ter expert, find experts and — connect.
Inbox — You might notice from the screen­shot in
this post that I have a lot in my LinkedIn inbox. I don't delete
every­thing. The inbox is search­able by name and key­word so for
exam­ple, if I search 'human resources' any­one who has that in their
pro­file or a mes­sage they sent me will return in the results. Keep
your con­ver­sa­tions unless they are junk, one day you'll be glad
you did.
Groups — LinkedIn allows every­one to belong to 50
groups. This is a huge ben­e­fit because when you belong to a group you
are indi­rectly con­nected to all its mem­bers and have access to them
with­out hav­ing to con­nect directly. Groups can be searched by
indus­try, occu­pa­tion, uni­ver­sity, geog­ra­phy,
company/organization, nat­ural resource, etc. You can join and leave
groups, and not so long ago group own­ers were given the option of
open­ing to the pub­lic. That means the con­tent of groups that are open
can be viewed and com­mented on by non group mem­bers. To start a
dis­cus­sion you'll have to become a mem­ber of the group how­ever.
Groups also have free job boards and many recruiters post there ver­sus
pay­ing for posts on LinkedIn jobs.
Just drop down the search box and go through the options on a
rou­tine basis. Though it's def­i­nitely user friendly, LinkedIn is very
fea­ture rich and that can be intim­i­dat­ing for sea­soned
pro­fes­sion­als just start­ing to explore online net­work­ing, col­lege
stu­dents and that C-level per­son who is work­ing to over­come fear of
the unknown. This is a great way to take the guess work out of the
equa­tion and form good LinkedIn habits.
What tips do you have to help build good LinkedIn net­work­ing habits?
P.S. Con­nect with me for LinkedIn in the morn­ings over coffee!
P.S.S. Check out the screen­shot for real live proof of why you
should not con­nect your Twit­ter account to LinkedIn unless the only
tweets you make are 100% pro­fes­sional. LinkedIn is not the cor­rect
forum for enter­tain­ment gos­sip Sharelle.