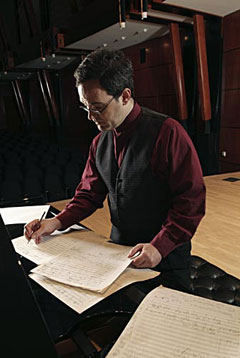 Our own Lawrence Dillon's The Infinite Sphere will be given its World Premiere performances by the Daedalus Quartet tonight, Friday, January 15 – 8 PM as part of the Discovery Series at The Barns at Wolf Trap in Vienna, Virginia and on Saturday, 7:30 PM at Watson Chamber Music Hall of the University of North Carolina School of the Arts in Winston-Salem.
Commissioned by the Daedalus Quartet in conjunction with the Thomas S. Kenan Institute for the Arts, Dillon's fourth quartet takes Pascal's reference to "an infinite sphere, whose center is everywhere and whose circumference is nowhere" as the inspiration for a virtuosic wheels-within-wheels journey.
The fourth quartet in Dillon's Invisible Cities String Quartet Cycle — a set of six quartets that explore connections between Classical forms and contemporary experience — The Infinite Sphere not only takes the form of a Classical rondo, it also adopts the rondo spirit, using popular dance music as material.
Winner of the 2007 Guarneri String Quartet Award from Chamber Music America, the Daedalus String Quartet is the resident quartet for the University of Pennsylvania and Columbia University.
Lawrence is Composer in Residence at the University of North Carolina School of the Arts and currently has commissions from the Emerson String Quartet, the Mansfield Symphony, the Boise Philharmonic, the Salt Lake City Symphony, the Daedalus String Quartet, the University of Utah Philharmonia and the Idyllwild Symphony Orchestra.