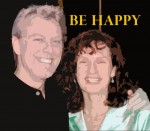 This is my last post for the old year (Bye, 2013, don't let the door hit you on the way out), and the first for the new year (hello, 2014!  And may I say, you're looking good!)
On behalf of Lindea and myself, we wish you a HAPPY NEW YEAR in 2014 filled to overflowing with health and happiness!
For me, 2013 was a great year, and 2014 looks to be even better.  I hope that's true for you, too.  But I know 2013 wasn't a great year for everybody all the time, and for some it was a terrible year.  If you had a rough year,  we sincerely hope that 2014 will be much better.
Last night, we were talking about the shape of things in the big picture……about the difficulties of our times – war and threats of war,  corruption of our food supply with GMOs, radioactive particles seeping into the Ocean from Fukushima, the persistent corruptive influence of money in politics, and so on and so forth – how scary they are, how there's a sense of powerlessness to do anything about them, how these difficulties can weigh so heavily on people, and how ignorant and arrogant the whole power structure on the planet seems to be.   We talked about how the dying paradigm doesn't want to die, so it struggles to survive by standing in the way of positive change and human progress, using fear and anger to slow change down.
Then we spoke about an often unspoken truth:
Positive change itself tends to be invisible to the naked eye and senses.  It happens across time, then the result appears in a moment.   Positive change is also invisible to the media (not all media, but the mainstream press, owned by a handful of corporations) which has a financial interest in focusing more on stories that create negative emotional states than on stories that might educate, inform and make a difference.  A negatively stimulated population pays more attention to the bad news bearers than a happy and rational one would.  So you won't hear much about positive change in the newspaper, or on TV, or in magazines and movies, but you will hear about amplified trivia and terrifying trends,  and the result is that life can look most discouraging when viewed through the lens on the world the media has on offer.
Meanwhile, good people all around you, and all over the world, are doing amazing things, little things big things, things that make a real difference, improve lives, solve problems, and bring people together people together in common cause.  You can see the truth of this by simply looking at your own communities.  Do you volunteer anything?  Do your friends?  Do you give money to support what you care about?  Or give time?  Do you help people when they ask?  If you answer yes, if your friends answer yes, then you can see how this all adds up to a great deal of positive effort, and look further to notice how the positive effort of you and your friends gets little to no attention from the press, yet your choices and actions matter, a lot.
And somehow the lack of attention has no inhibiting effect on being helpful, proactive and productive, of people doing what they can do, what they are given to do, what needs to be done.    So I have every confidence that great projects are underway right now that can solve just about any problem facing us;  that great energy is being devoted to moving important things forward; and great opportunities continue to present themselves for making human lives purposeful, impactful and worthwhile.
Let me say this another way:  The appearance of things is not the truth of things.  There is more good stuff going on than we can see or dream.  And it does add up.  Things are changing.  The scary sound you hear?  It's the dying paradigm, clutching its fear to its chest like a life preserver in a storm of change that has already begun tossing it overboard.  And in answer to that question, "How's that hopey-changey thing workin' out for ya'?", just fine!  I don't look to the government to change anything.  If anything, they'll be the last to change.  We have to make the change we want to see, and we are.
Because I have such great people around me, like you for example, I have great optimism in our ability to meet our challenges and move past them, to stand and face our future and work towards one we want to inhabit, to improve the conditions for even better things to come.  So as far as I'm concerned, 2014 looks like an amazing opportunity environment, I've got a few ideas, and I'm making some plans.   I hope the same is true for you.
Thank you for your friendship, your interest and support, for your  comments, and shares, and more to the point, thank you for all YOU do, every day, in every big and small way, to make the world a healthier and saner place for all of us to live, grow and flourish.   Because of you, my cup runneth over!  I'm raising that cup of cheer now, and offering this toast… Here's to a stellar 2014 for ourselves, our families, our communities, our nation and the world!
Rick