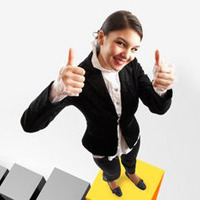 Jobs are less abun­dant but they haven't
dis­ap­peared. Less jobs mean the bar has been raised and it has
enabled and pro­voked employ­ers to be choosier. You have to work
harder, be smarter, have a bet­ter pre­sen­ta­tion and story than
any­one else. You have to rock 'em, sock 'em, knock 'em — more — to get
the offer. You have to be Super Candidate.
Mar­ginal or good doesn't work when jobs are scarce and can­di­dates
are plen­ti­ful. Mar­ginal or good works when jobs are plen­ti­ful
and can­di­dates are scarce.
Painful to hear, some­one gets the job
when there is an open­ing. Not get­ting the job doesn't mean you
weren't a wor­thy can­di­date or that there isn't a job for you. If you
are objec­tive you'll real­ize it means some­one else:
Had more rel­e­vant experience
Pre­sented her­self more impressively
Had more refined per­sua­sive skills
Showed more pas­sion for the company's mission
Expressed more desire to do the job the way the com­pany wants
it done
Left the hir­ing manager(s) feel­ing syn­ergy and they missed her
the moment she left
In other words.….….…. some­one else was the bet­ter fit.
Instead of hav­ing self defeat­ing feel­ings, if you were not
selected for a job you have inter­viewed for, it means you prob­a­bly
wouldn't have thrived in that posi­tion (or maybe that cul­ture) as well
as the per­son hired. You wouldn't want to work some­where that isn't a
great match, you wouldn't be happy. So, learn from the expe­ri­ence.
Ana­lyze how you can refine your search for a bet­ter fit and and any
other area you might improve on. Write it off and keep look­ing for the
oppor­tu­nity that is a match.
Keep on search­ing, look for unpub­lished jobs. They do exist.
This week, a com­pany in Wilkes-Barre told me they have grown to the
point they need another per­son on staff and asked me to help them find
an office man­ager with excep­tional orga­ni­za­tional skills and
book­keep­ing great­ness. It's a laid back, pro­gres­sive, very cool
place to work, with very com­pet­i­tive pay and ben­e­fits. –» This
isn't posted on a big job board or even their com­pany website.
When some­one lands the job of her dreams, it is huge cause for
cel­e­bra­tion. Check out JT O'Donnell's Job Jam to see how
it's prop­erly done!