Pinterest is a relative newcomer to the social media scene.  It was launched in 2010, and recent estimates put it at 48.7 million unique users.  According to some sources, it is second only to Facebook in driving referral traffic. Many businesses are realizing that it is worth their while to explore Pinterest marketing.

I am the first to admit that I didn't initially understand the lure of Pinterest,  "What's the big deal, its just a digital bulletin board!"  But I was soon drawn into its beautifully curated world – you can find my pins here. It is like a visual filing cabinet that I use for recipes, decorating ideas, and adorable pictures of tiny animals (don't judge me).
Pinterest Marketing for Business
With all of the social media platforms out there, it can be a challenge to decide if the new networks are worth investing time in. Here are some reasons in favor of Pinterest:
There is no fear of a pin getting "buried." As a user adds a new pin, the other pins stay on the board, and simply shift over to make room for the new pin. It's estimated that 80% of pins are repins, so popular content recirculates frequently.
Pinterest now offers a web analytics suite that allows you to see your most popular content and which pages from your website are pinned most often. You'll need a Pinterest account and a verified website in order to see this. Alternately, you can see the most popular pins from your site by visiting this URL (http://pinterest.com/source/yourdomain.com) – sub in your website's domain for "yourdomain.com" (you can also use this to research your competition).
Complimentary boards can capture traffic that might be otherwise missed. If you have a tea shop, you can have a board dedicated to beautiful china tea cups, novelty teapots, or adorable tiny animals in teacups (just a suggestion).
It's pretty! Do not underestimate the power of a beautiful visual interface.
It's mobile friendly! With sleek apps, Pinterest is a great fit for mobile visitors.
If you are interested in learning more about Pinterest, and how to use it as an effective marketing tool, this is a great podcast to get you started:
And this infographic below gives some insight into the people behind the success of Pinterest. Happy Pinning!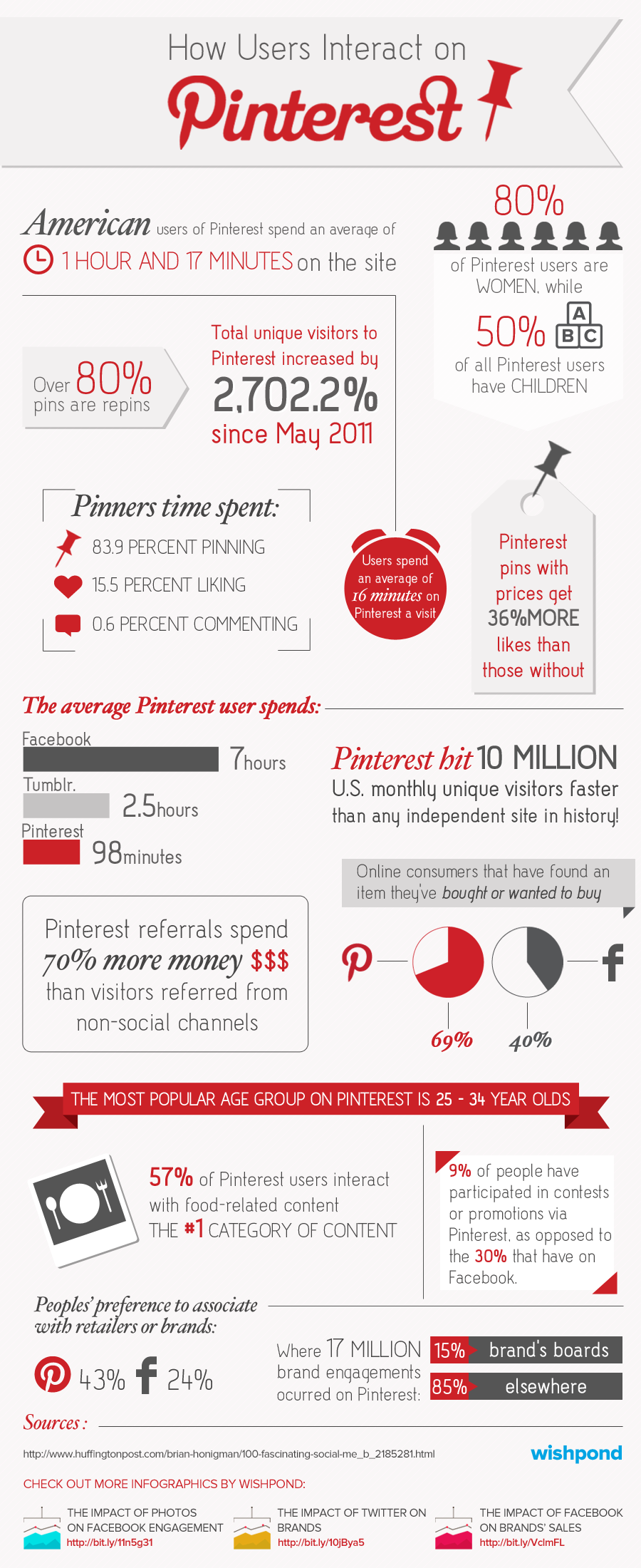 The post How I Learned to Love Pinterest appeared first on Pixel/Point Press | social media & SEO.

Link to original post