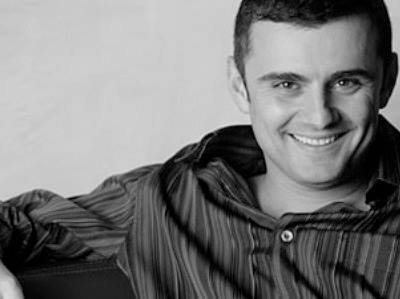 Meet Gary Vaynerchuk
What a fun opportunity to interview Gary Vaynerchuk, (@garyvee on twitter) wine store entrepreneur, online marketer, social media leader, well-known author, and keynote speaker.  This is part of his initiative to do 365 interviews in a year (#1aDayQandA).
WineLibrary.com was born. He used the site to grow the store from a $3 million business to a $45 million business, and it was just the beginning. Armed with a Flipcam and a NY Jets bucket, He started Wine Library TV in 2006 to share his knowledge and passion for wine with a community that desperately needed a fresh voice. It wasn't long before 100,000 people were watching his videos every day. You can now find him on "Vine" posting lots of random 6 second videos and using Instagram through his day.
My cell phone rang around 5pm on a Saturday afternoon and the passionate social media guy who loves the hustle said "Angela hey Gary"
the conversation was as if we had met before. Nice guy easy conversation with a little distraction of a 9 month old and 4 year old playing in the back ground while on daddy duty. The sad part about the interview was the recording system did not work and it was not recorded.

He had texted earlier in the day to reschedule our call due to kids that were not feeling well and as a parent – I totally understood.
We discussed how social creatures we humans are and how social media has changed what people post. 10 years ago you would have never known what I had for dinner or if I was getting tea at Sonic but now there are fun apps that allow people to share what their thinking at the moment.
Gary and his staff have fun posting videos with short messages and some are just statements and people love it. I met Gary in October at a event where he and I were speakers. Because I have followed him so long on social media when I met him in person it was as if I already knew him.
Social Media is changing relationships and Smartphone's are changing how people communicate.
Gary has used social media to post a goal he has that he would like to reach this year #1aDayQandA a 15 min interview with anyone who wants to chat with him 365 days this year.
I appreciated the time he took to call even though his kids were not feeling well. Our conversation was short and I did not ask the questions I had on my list because I wanted him to get back to what is important on a Saturday – his family.
Gary's new book on amazon: Jab, Jab, Jab, Right Hook: How to Tell Your Story in a Noisy, Social World  
Angela Brooks is transitioning from nursing without giving up her day job. Working part time using a smart phone, social media and a blog. Voted  #7 in the BizzyBuzz "People's Choice, 110th Leading Moms in Business by startupnations, Blog contributor for Scrubs  magazine & NursingTogether, Interviewed with Gary Vaynerchuk the wine guy with the hustle and featured on his blog. She has been interviewed by 3 radio stations in the USA and a women's  summit in Australia with 20 other social media experts, author of "The Nurses Voice", has been the keynote speaker for social media training
Using social media she has become the #2 top team performance in her company leader's team over running the leader who has held the place for 5 years straight working full time. Learn more about Angela Brooks here