I spent my day at a con­fer­ence on high school dropout re-engagement
at a local col­lege. It was really nice to have been asked to
par­tic­i­pate on the panel and the day was thought pro­vok­ing if not slightly frustrating.
In the US 7000 high school stu­dents dropout every day
Are you shocked? I have never brought this up here before because I
gen­er­ally blog about the HR side of my job not the work­force
devel­op­ment side. Get ready for a ride with me.…… Here's my
hypoth­e­sis (same as pro­fes­sional 2 cents), I think the rea­sons
stu­dents drop out of school and employ­ees leave jobs are the same.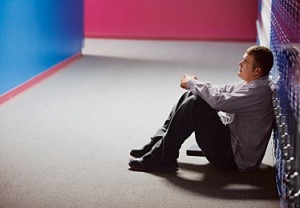 Employee dis­en­gage­ment &
stu­dent dis­en­gage­ment have the same root. Employ­ees leave man­agers
and stu­dents leave teach­ers. They are bored, feel dis­re­spected,
treated unfairly, unchal­lenged, patron­ized, lack rap­port and have
per­son­al­ity con­flicts. Both quit when they have seem­ingly
insur­mount­able prob­lems with peers or when the envi­ron­men­tal drama
is overwhelming.
Peo­ple quit jobs when life gets in the way and they can't fig­ure
out how to stop it from inter­fer­ing with atten­dance poli­cies,
com­pet­ing with men­tal and emo­tional real estate, fam­ily
oblig­a­tions, etc. Stu­dents have the very same prob­lems. They
some­times have to assume the role of sib­ling or parental care­taker
and income earner. They have abu­sive fam­i­lies and sig­nif­i­cant
oth­ers and they become par­ents them­selves sometimes.
Employ­ees check out on the job and col­lect the check doing the
min­i­mum to get by until they stop show­ing up phys­i­cally too…
Oth­ers are per­for­mance man­aged out. it's the same form many
students.
So what's the lesson?
We know that good
great com­pa­nies, the ones with the hot employer brand, the ones
peo­ple line up for at the career fairs and and try to net­work with on
social media to get an "in" and have a can­di­date advan­tage — have
great reten­tion, career paths and pres­tige. They have rep­u­ta­tions
as inno­v­a­tive, fair, flex­i­ble and trans­par­ent. They give their
employ­ees auton­omy and account­abil­ity, do employee sat­is­fac­tion
sur­veys and are pre­pared to hear the feed­back — and act on it. They
treat their employ­ees as inter­nal customers.
What if schools did that?
What if schools were more HR like? What if their orga­ni­za­tional
struc­ture more closely mir­rored (not that it does at all right now)
cor­po­rate train­ing depart­ments? What if high school kids were
treated a lit­tle more like adult learners?
Where are the work plans and clear expec­ta­tions, team work and goal
attain­ment as an indi­ca­tor of per­for­mance met­rics? If stu­dents
have per­sonal prob­lems can't they have some­thing like per­sonal LOA
or FMLA that doesn't cause them to be held back?
Does it make sense to have dis­ci­pli­nary action that hurts
stu­dents by out of school sus­pen­sion that puts them fur­ther behind?
Should school employ­ees be allowed to ver­bally abuse stu­dents,
belit­tle and berate them?
Moti­va­tion is unique to the indi­vid­ual. That's another thing top
employ­ers under­stand. It's not one size fits all.. shouldn't
moti­va­tors be assessed, rec­og­nized and devel­oped in ele­men­tary
school? It might be help­ful to chart their learn­ing and moti­va­tional
style in their records. The next teacher that gets them wouldn't have
to rein­vent the wheel.
Where is the S Sat Q12 sur­vey? What forum or vehi­cle so stu­dents
really have to pro­vide feed­back about their expe­ri­ence? Where's the
360? Report cards are a one dimen­sional per­for­mance review.
We all hate super­vi­sors and sys­tems that oper­ate like that… They
never make employer of choice lists..
What's your take?