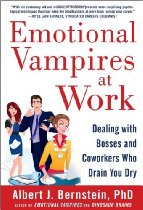 Greetings one and all.  I've got spring fever, and I'm going to do something about it.  I'm going to let someone sit in for me for a few weeks while I goof off work on a project.   That means that for the next few weeks, Dr. K's 'How To Click With People' blog will have a guest blogger to feed you useful information in my absence!  YAY!
(Drumroll)
Ladies and gentlemen, it is with great pleasure that I introduce to you Dr. Al Bernstein, a Ph.D. clinical psychologist, speaker and author of a wonderful new book titled Emotional Vampires At Work!
Vampires are all the rage these days, and there's plenty of rage coming from the people that work with them too!  For the next few weeks, Al is going to share with you from his work on dealing with the most difficult behaviors of all!
Now, you may wonder how this has come to pass.   It turns out that of all the topics I  have explored on my blog, the biggest draw – and I'm talking every single day someone comments on this – is a series I wrote some time ago on dealing with narcissists.   So clearly, the extremes of difficult behavior create demand for learning.  And who am I to deprive my loyal readership of some good learning?!

I looked for someone who could take on the task of talking about bullies, narcissists and the like, and I found a good one!  He's smart, AND clever, and I enjoy his writing.  I highly recommend that you get his book, Emotional Vampires At Work (click the book cover to get it on Amazon), as it picks up where my coauthored bestseller, Dealing With People You Can't Stand, leaves off.  Al talks about some of the biggest difficult behavior challenges you face in your workplace, and gives great advice on how to handle them.  While Al's opinions are his own, I've found so much common ground that I'm just delighted to have him sit in for me while I take a much needed sabbatical from this blog.  I've been at it every week for about 5 years, and I think adding his voice to mine is a great way of serving your interests while attending to mine.
You're in for a treat, starting next week, Al offers an overview post about some  really difficult people!   I'll keep an eye on things, read comments and respond where appropriate, and I'll be back before you know it.
Stay loyal and true, you'll be glad you stuck around for Al's clever, insightful and very helpful ideas for dealing with bosses and coworkers who 'drain you dry.'
Rick