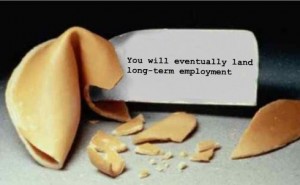 Some­one who has on occa­sion
looked to me for sup­port dur­ing a dif­fi­cult period of unem­ploy­ment
and resorted to short-term assign­ments while seek­ing reg­u­lar
employ­ment (you notice I did not use the word per­ma­nent,
because no one's job is) sent me the fol­low­ing ques­tion. I have
san­i­tized it and para­phrased because I think it's the proper thing
to do.
It's con­cern­ing the treat­ment of tem­po­rary work­ers and that
raises red flags because so many peo­ple have turned to temp­ing in
these eco­nomic times with the hope an employer will rec­og­nize and
appre­ci­ate their tal­ent and work ethic and hire them as a regular.
Karla,

I don't know if you would know the answer to this one but why do
Temps get such a bad rap and get treated so badly? I just fin­ished the
assign­ment that I started in Nov, sadly due to the bud­get they
couldn't keep me on. I didn't fin­ish what I was sup­posed to do but it
was due to the CFO not hav­ing the time to sit
with me and go through what he wanted to be done and how I was going to
do it. So I did help the HR dept and then
went onto the CFO's office and A/P.

In the A/P dept I was treated badly and another temp was treated like
a child. I don't get it at all. I was being rep­ri­manded by two
employ­ees when the CFO walked in through one
door of this long nar­row office and walked past me and the other A/P
employ­ees and went out the other door with­out say­ing a word. I feel
that he should have inter­vened, should he have? Should I have told them
not to speak to me like that? I was afraid of los­ing the posi­tion if I
answered back or told them not to speak to me that way. What could I
have done or said at that time?
My Dis­traught Reader,
I'm sorry you con­tinue to go through dif­fi­cult times which have
resulted in feel­ings of low self-esteem and doubts of self-worth. It's
pal­lia­tive at best I'm sure to say, "you're not alone" in your
unem­ploy­ment and that 1 in 10 peo­ple are feel­ing your pain.
I don't think there is any dif­fer­ence between an employer who
treats tem­po­rary employ­ees badly and one who treats reg­u­lar
employ­ees that way. There cer­tainly are too many of them and one goes
with the other. Tem­po­rary employ­ees have the same right to fair
treat­ment as reg­u­lar staff. If you are not being treated fairly as a
tem­po­rary employee you should dis­cuss it with your employer. I
sug­gest dis­cussing it with the agency you are work­ing through or in
the event of direct hire, the human resources depart­ment at the
work­place. There might be a "She's just a temp" atti­tude
going on that needs adjustment.
There could also be some­thing else going on inter­nally within you.
The paper, "Con­tin­gent Work and Depres­sive
Symp­toms: Con­tri­bu­tion of Health Selec­tion and Mod­er­at­ing
Effects of Employ­ment Sta­tus," was co-authored by Suzanne DeHaney and
Anto­nio Ciampi, both from McGill. The research shows tem­po­rary and
short-term con­tract jobs con­tribute to psy­cho­log­i­cal dis­tress and
depres­sion. That's a tough sit­u­a­tion when one is already
dis­tressed and depressed over unem­ploy­ment in the first place. It
would be help­ful for agen­cies and employ­ers of con­tin­gent work­ers
to under­stand these find­ings so an appro­pri­ate strat­egy to assist
in their suc­cess could be imple­mented. I haven't seen any evi­dence of
com­pa­nies doing this but that doesn't mean it isn't a good idea.
I hate to have to say this, but as inap­pro­pri­ate as your
co-workers' behav­ior was, you allowed your­self to be treated
dis­re­spect­fully because you accepted and swal­lowed it like a bit­ter
pill with­out a peep. It could be you were afraid if you spoke up your
assign­ment would have been ter­mi­nated. That's why it's impor­tant to
have doc­u­mented dis­cus­sions when funky things are going on. It would
be an issue if your assign­ment were ended and then imme­di­ately
refilled for no log­i­cal rea­son — like you were not per­form­ing to
expec­ta­tions or vio­lated a com­pany pol­icy. It would pos­si­bly be
cause to file a complaint.
You men­tioned that through­out your career you have been
embar­rassed by oth­ers in the work­place and dis­re­spected before.
There can be coin­ci­dences, of course. How­ever, I find when one
indi­vid­ual has repeated inci­dences it is because of how she han­dles
her­self. Again, this could be a mat­ter of self-esteem and
con­fi­dence, inter­per­sonal skills, or other fac­tors. Have an hon­est
chat with your­self or ask some­one you know in per­son and trust to
give you feed­back on how they per­ceive your abil­ity to man­age
rela­tion­ships. If you are a per­son that inter­nal­izes, fears
rejec­tion, has a high need for accep­tance and praise and wants to be
liked by every­one, you may be able to learn tech­niques to help
pre­vent this type of sit­u­a­tion in the future.
As for the CFO's actions, I can't speak to a
sit­u­a­tion I haven't wit­nessed or inves­ti­gated. Unless it was an
ugly loud scene maybe he wasn't aware of it because he was in his
men­tal P&L spread­sheet. I would have
asked him about the sit­u­a­tion at the first avail­able oppor­tu­nity
and not allowed myself to won­der for­ever about why he didn't say
anything.
I'm con­fused about why you said that "sadly" they couldn't
keep you on. Why on earth would you want to invest your­self there if
they didn't treat you well? I sup­pose that's a rhetor­i­cal ques­tion. I
know you're sad about it because you just want a sta­ble job in a
really bad way.
Hope­fully this helps shed a lit­tle light on the situation.