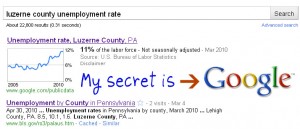 Per­haps it's the finely honed
search skills recruiters have that sets them up to be OPSE (other
people's search engine). I know I get calls ask­ing if I could "look
this up". Some­times I ask "did you try?" and some­times I don't bother
because by the time I do I have the answer and it's just eas­ier to give
peo­ple what they want.
A short Twit­ter con­ver­sa­tion hap­pened on Fri­day, sparked by
Lau­rie Ruettimann's rev­e­la­tion that she "received feed­back
that "google it" as an answer to a ques­tion is rude." I recall my
father telling me to "look it up" plenty of times when I was a kid.
I would under­stand if some­one needed infor­ma­tion that couldn't
wait and didn't have access to the Inter­net or a phone direc­tory or
411 (how often is that really the case?). How­ever, it was hard for me
to under­stand why a cer­tain per­son calls me every quar­ter to ask the
local unem­ploy­ment rate so she can com­plete her report.
My quar­terly response has always served to qualm the curi­ous mall
lady. Except for this time…
"That doesn't seem high enough, are you sure" she asked?
I told her I googled it and got the graph. Then she did it… She
asked if it wouldn't be bet­ter to get the infor­ma­tion from the
gov­ern­ment. I explained that indeed it came from there but rather than
hav­ing to know exactly which web­site to go to I just googled it..
I explained how she could go to www.google.com and enter the search
term to use and even­tu­ally the con­ver­sa­tion ended.
Keith McIl­vaine
asked the burn­ing and seem­ingly log­i­cal ques­tion, "if you have
a ques­tions, why wouldn't you "Google It" first then ask some­one if
you don't get the answer" but it was Mau­reen Sharib who made sense of it all…
It made me stop and think. The mall
lady called from her desk and she was using a com­puter to do a report,
but where I have an igoogle dash­board as my home­page — track­ing
rep­u­ta­tion of the orga­ni­za­tion I work for (and mine too), the
weather, feeds from BLS and other data impor­tant to me, the mall lady doesn't
even remotely under­stand the power of search.
I'm really inde­pen­dent and I can't come up with an exam­ple of a
time I wouldn't try to fig­ure out some­thing myself before ask­ing,
just like Keith sug­gested. But maybe that's why we do what we do and we
are who we are. When the mall lady calls in Sep­tem­ber I'll be ready.
Do you find peo­ple ask you things they could look up them­selves or
are you a mall lady?