Read a Case Study Featuring Three Customer Success Stories of Companies Using Visier Workforce Analytics to Solve Their Unique Business Challenges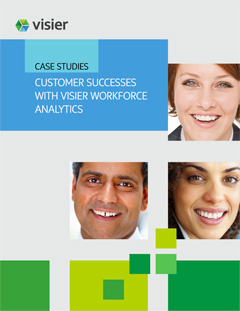 Case Study – Competing for Top Talent: Leading global software firm with approximately 10,000 employees optimized staffing strategies – attracting and retaining top talent, and empowering them to make smarter workforce investment choices.

Case Study – Managing Costs: A global conglomerate, high-tech firm with approximately 350,000 employees with a consulting services team of over 130,000 employees achieved success reducing costs and improving productivity.

Case Study – Optimizing Locations: A leading financial organization with multiple retail banking divisions, optimized their recruiting strategy across multiple locations for increased customer service and financial returns – while minimizing costs.

Link to original posthttp://info.visier.com/blog/