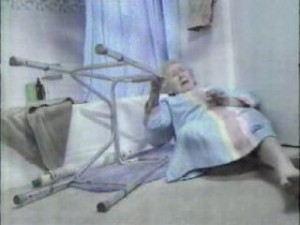 Even the elderly woman in the
Life­Call com­mer­cial
knew she should rely on tech­nol­ogy when she fell and couldn't get up.
It's dis­parag­ing to have val­i­da­tion yet once again that an
appar­ent cos­mic vor­tex con­tin­ues to usurp the minds of many and
pro­hibit advance­ment. Today in one local online news out­let the story
is With social media, local politi­cians skep­ti­cal.
There are five com­pelling rea­sons a polit­i­cal can­di­date, just
like a can­di­date for any other job, would use social media that
imme­di­ately come to mind.
First, it pro­vides reach oth­er­wise unat­tain­able. Think of the
peo­ple you missed being able to have a pierogi with at that bazaar or
those babies you weren't able to kiss. How much would it cost in
main­stream media buys to reach every­one you couldn't shake hands with
in person?
Sec­ond, it shows con­stituents you under­stand how to com­mu­ni­cate
in today's dig­i­tal world. A large seg­ment of the vot­ing
pop­u­la­tion want a leader who is mod­ern and isn't
Flint­stonesque (that includes me by the way). I stopped buy­ing news in
print years ago so if that's where you are I'm not see­ing you. A
diver­si­fied strat­egy to reach as many peo­ple as pos­si­ble means
more votes. Some are here, some are there, you need to be everywhere…
Third, it pro­vides an addi­tional and very effec­tive real time
method to mea­sure pub­lic opin­ion. The ana­lyt­ics avail­able should
be very attrac­tive to some­one run­ning a cam­paign — if they care
about pub­lic opin­ion. It allows you to be in charge of tweak­ing
your rhetoric
mes­sage. Not see­ing enough response from a par­tic­u­lar
con­stituency? Engage them pur­pose­fully with con­tent impor­tant to
them and then mea­sure the result to ensure you have per­suaded them and
they sup­port you.
Fourth, the fact is that social media is "media". It's inde­pen­dent
media that is 100% con­trolled by the con­tent cre­ator and pro­vides
imme­di­ate access to con­stituents. If I were a can­di­date I would be
work­ing dili­gently with my cam­paign man­ager to drive my mes­sage to
as wide­spread an audi­ence as pos­si­ble, not cross­ing my fin­gers
wait­ing for cov­er­age by tra­di­tional media with lit­tle or no
con­trol over con­tent or frequency.
Last but not least, it's FREE. Regard­less of one's polit­i­cal party
per­sua­sion, the value of social media in the last pres­i­den­tial
cam­paign can hardly be denied. On a smaller local level it can be
emu­lated through the use of social media on a $0. bud­get. It would be
great if the pub­lic didn't have to dole out money to elect a good
local leader, wouldn't it? I know I would respect one who fig­ured out
how to serve before solicit.
Social media cam­paigns can be exe­cuted any­where there's a zip
code, so even a may­oral can­di­date in a small town can do it.
Can­di­dates for large major elec­tions have a cam­paign man­ager savvy
enough to hire some­one with social media cam­paign man­age­ment
expe­ri­ence. Politi­cians run­ning local cam­paigns don't need live
CNN.com streamed town­hall meet­ings linked to Face­book chats to
effec­tively engage. Can­di­dates for small elec­tions should enlist the
help of some­one with a his­tory of using social media suc­cess­fully
for mar­ket­ing to get set up and take a les­son from them on how to
nav­i­gate and update.
A good cam­paign man­ager helps with the time man­age­ment aspect of
daily updates, which in all real­ity need not take more than 15 min­utes
to be effec­tive once the pro­files are set up (though per­son­ally, I
would have a very robust social media cam­paign with a ded­i­cated
manager/volunteer if it were mine).
I respect pub­lic offi­cials who pro­mote and engage in open
com­mu­ni­ca­tion, even if it is man­aged by a staffer. If I were an
elected leader I would give main­stream media plenty of com­pe­ti­tion
by con­tin­u­ing to use it post elec­tion to man­age my
com­mu­ni­ca­tion with constituents.
If you were run­ning for pub­lic office would you use social media?
Do you fol­low an elected pub­lic offi­cial who social media in an
exem­plary way?