This tip-filled guide will show you how to get the most out of Twitter Lists.
(If you'd like to learn about using Twitter Lists for job search, that's coming up next here on JobMob. Subscribe to JobMob via RSS or email so you won't miss it.)
In this article, you'll find: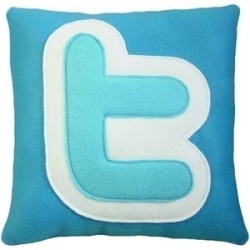 The Many Benefits of Twitter Lists
Lists organize who you're following
Lists are a feature that allow you to easily categorize the people and accounts you're following on Twitter. You decide what the theme of each List is or if there's even a theme at all. Lists are a great way to split who you follow along the lines of work and play, by topic, or by relation to you.
Lists make Twitter Easier To Use
Twitter Lists reduce the clutter and make Twitter itself easier to use because you no longer need to read everyone's tweets in one stream of information. Instead, you can divide that stream into separate streams that are easier to follow focused on topics that you gave them when you created those Lists.
Lists save you time
By making your Twitter Lists public, you're sharing them with everyone else. If you create Lists that are valuable to other people, they will follow your Lists instead of wasting taking the time to create their own.
Lists make discovery faster
By making their Twitter Lists public, other people are signaling to you who's worth following, particularly useful if you're new to Twitter or looking to deepen your knowledge about a specific topic.
Lists can help build your personal brand

If you attract enough followers to your Lists, you'll become known as a quality List builder, which will attract more followers to your Lists and Twitter profile, which will grow your reputation, and so on.
Another way Lists can help build your personal brand is if you create Lists that are related to the brand you're building. For example, as a job search expert, I have already built a number of Lists related to job search.
The number and kind of people who add you to their Lists will also help build your personal brand by showing how those people see you, which is hopefully in sync with your brand.
Finally, just adding someone to a List of yours increases your chance of having them visit your profile to see who is Listing them.
Lists let you learn with privacy
You can keep your Twitter Lists private, hiding them even though you're following people with them and they have no way of knowing. Plus, by keeping your Twitter Lists private, you can build them until you feel they're ready for public display, or just keep them to yourself for every reason that you can imagine.
Now that you know how useful Twitter Lists are, let's take a look at how to create them.
How To Create Twitter Lists in 3 Steps
It only takes a few clicks to create a List.
Go to your Twitter profile page and you'll notice a number of additions for using Lists:
The Lists button on the right above your tweets
The Lists box that appears in your sidebar
1) To create a List, click the Lists button

. In the popup that appears, click New list: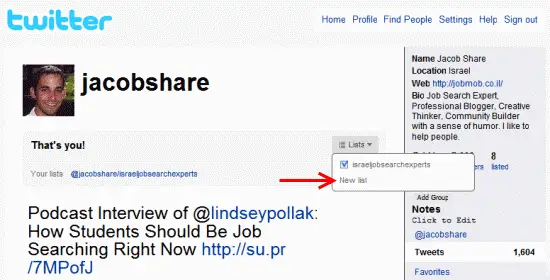 Note: Twitter currently lets you create up to 20 Lists, after which the New list link disappears.
2) In the Create a new list popup, choose a name for your List: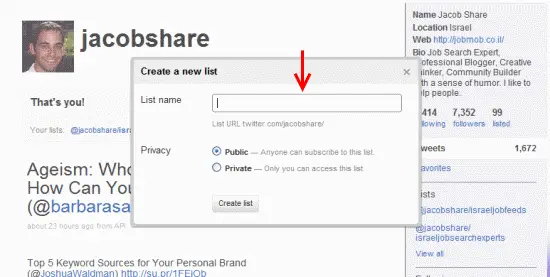 Note: according to Twitter, "A list's name must start with a letter and consist only of 80 or fewer letters, numbers, '-', or '_' characters."
3) Keep your List private until you're ready for people to know that you have (or haven't) added them to your List. Then click the Create list button.
That's it! You've just created your first Twitter List, which is initially empty and looks like this: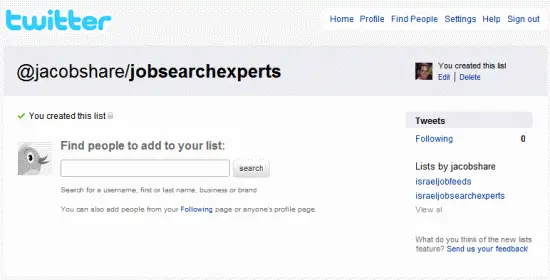 An empty List isn't a very useful one so now you'll add people to follow with your List. The easiest way to do that is by doing a Twitter User Search and then adding accounts from the search results. In this example, I searched on "job search":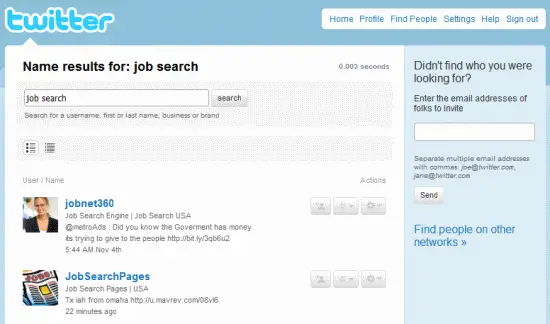 To add anyone, click on the Lists button

and in the popup menu that appears, choose which of your Lists to add that person to. You can even add people to more than one List by clicking multiple List checkboxes.
Another way to add people to your Lists is directly from their Twitter profile.
Every time you see a user's information on Twitter, there will be a Lists button for adding them to (or removing them from) your own Lists, and you can even add yourself to your own Lists via your Twitter profile:

Once you do add someone to your Lists (1), links to those Lists will appear at the top of that person's Twitter profile (2).
How To Manage Twitter Lists: Editing and Deleting
Now that you've created a first List, a link to that List should appear in the Lists area in the sidebar of your Twitter profile. When you click that link to visit one of your Lists, the upper-righthand corner of the List's page will have links to edit or delete the List:
(1) The Edit link lets you rename your List and modify its privacy settings. If you ever want to change the privacy setting, it will usually be to make a private List public like when a List you were building is now ready to be publicized. Know that if you make a public List private, that List will immediately lose all of its followers.
(2) The Delete link will let you do just that- delete a List that you created, something you might want to do as you get closer to the Twitter limit of 20 Lists (to create; you're allowed to follow as many as you like). A popup will ask you to confirm the deletion before your List is gone forever.
How To Manage Twitter Lists: Following
The Lists box in the sidebar of your Twitter profile page has a link that says View all, and links to your Lists page: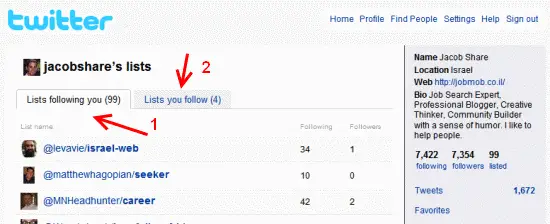 Here you can see all the Lists following you (1), i.e. that other Twitter users have added you to, and the Lists you follow (2). A nice feature is how Twitter shows how many people are following and are followed by each List, numbers which you can use to judge whether it's worth following that List yourself.
Don't be surprised if the Lists you're on are ones that you would also want to follow! If anything, depending on the strength of your personal brand, you might find yourself on multiple Lists that overlap each other with the same people over and over. In that case, choose just one List that best groups together all the people you want to follow for that topic.
To follow a List, click the link to it and then click the Follow this list button:
Now that you're following that List, an Unfollow link will appear at the top of the page. To unfollow a List, just click that Unfollow link.
Room for improvement
Managing Twitter Lists is too hard right now. For example, if you decide to remove the majority of people from a List, it's probably easier to delete the List and then recreate it only with the members you want. Also, there's currently no way to stop following multiple Lists at once i.e. you need to visit each List's page and click the Unfollow link, one by one.
10 Twitter Lists Best Practices
Before you start creating any Twitter Lists, keep in mind these best practices:
This is a kind of mega-list that you should use to follow the people whose tweets you absolutely don't want to miss. If you follow so many people on Twitter that your main Twitter stream is mostly filled with tweets you don't care about, use your VIP List as your new default Twitter stream. To get an idea of who should be on your VIP List, see who you've mentioned (using the @) or direct-messaged recently.

Use discovery tools like Listorious to find Lists to follow
Especially before trying to create your own Lists. Saves time and you can guage if the existing List is better than what you had in mind.
Create Lists based on why you're on Twitter
If you use Twitter for work purposes, create a few Lists to follow experts, colleagues, news and job openings. If you use Twitter for fun, you might create a few Lists to follow friends, family, hobby communities and news, etc.
Value Lists are lists that bring value to other people. If you can think of an original List idea that is valuable to others, especially if the others are people in your industry or community, don't miss the opportunity to be first with that List. You might never even use the List yourself, that doesn't matter since you're trying to provide value.

You should also use Lists to warn people about Twitter accounts they should NOT follow. For example, I could create a Twitter List of spam accounts or of Twitter users that I felt were giving bad advice.
Don't try to organize all the people you follow into Lists
This is just a recipe for a lot of pointless busywork since you gain and lose followers every single day. Instead, create Lists as you feel a need for them and gradually add people to your Lists as you interact with them on Twitter. Sometimes, it might even make sense to follow the same person on multiple Lists.

Don't use up all your 20 Lists right away
You might want to create new Lists later without having to delete others. One way to save List slots is by following other people's Lists instead, like the ones you can find on Listorious.
If the List is for you, give it a clear, meaningful name
It's pretty clear what appears on a List of "Friends" or "My Favorite Bloggers", don't you think?
If the List is for other people, give it a catchy name
List names are the best way for your Lists to stand out in a crowd of Lists on similar topics. If List members appreciate the name of the List you put them on, other people will likely be attracted to that List too.
Since Lists are tied to the people who created them, you can give your Lists any name you like, including the same name as someone else's List but I would only recommend doing that if the List is for yourself. Otherwise, people might think you're trying to compete with them.
Certain Lists are best kept Private
Such as:
Incomplete Value Lists, so as not to offend anyone that would otherwise expect to be on the List
Blacklists
10 Ideas of Twitter Lists to Create
Now that you're ready to get started, here are some ideas for Lists to create.
Public Lists:
Family
Friends
Colleagues, bosses and ex-colleagues by team, department, or company
Industry experts you admire, for work or hobby
Job feeds relevant to your profession
News sources you care about, separated by topic, industry or location
Communities such as fans of your favorite sports teams or art, other players in a game or people rallying around a cause
Favorite blogs to follow via Twitter instead of using an RSS Reader
Private Lists:
A Shadow List of competitors you want to follow without them knowing you're following
A Shadow List of people to follow later
A Must-Use Twitter List Strategy for Professionals
Twitter actually allows you to create up to 20 Lists but that doesn't mean you should. In fact, if you choose your Lists well, you'll find that you only need a few to get a lot of things done.
So here's how to choose your Lists well.
Create:
1 VIP List – check this first whenever you log onto Twitter.
1 List for work – colleagues, bosses/managers, company and industry news. Keep this open when on the job.
1 List for play – news, friends, family and other communities you care about. Use this during your free time or breaks.
1 Value List for personal branding purposes, something that other people will find truly useful. Update this when you feel it's necessary and when people make good suggestions.
1 List for job search and/or career success. Check this at least once a day if you're actively job searching, at least once a week otherwise because you never know when a better job opportunity will come along unless you're watching regularly.
1 (private) Shadow List of people you're considering following. Check this when you have time.
The VIP List and Shadow List are ones that only you can know who should be on them. However, if someone else has already created a List that matches the other types, follow theirs until you find something missing and then either suggest the additions or copy the List and make the additions yourself.
Your Twitter Lists Toolbox
These tools will help you get the most out of Twitter Lists:
Official Twitter List Widget – a widget for blogs and other websites that displays tweets from a specific Lists.
Listorious – a directory of Twitter Lists with rankings so you can discover and find popular Lists to follow.
Twitter Lists 2 RSS – make an RSS feed for any Twitter List.
TweepML – lets you follow all members of a Twitter List in one shot.
MustExist's List Tags – if Twitter Lists are a way to tag people, this tool lets you compare how people are tagging you. A must if you're using Twitter for personal branding.
Listiti – "Get notified whenever your brand / product / company / … appears in Twitter Lists of your choice."
Seesmic Desktop – the first Twitter desktop client that's compatible with Twitter Lists, the software pulls in your Twitter Lists among its Userlists.
Tweetvisor – a web client for Twitter that is also Lists-compatible.
10 Suggested Twitter Lists to Follow
Other bloggers' Lists recommendations
10 Predictions for Twitter Lists
You will eventually be able to create as many Lists as you like, including Lists of Lists or Lists that were generated from parts of other Lists.
It will soon be possible to follow a List via RSS.
Twitter will make List management easier, including a way to hide specific Lists from polluting your Lists summary page.
Twitter will let you 'block' List members so that you can filter only the members you want to follow of a given List. Not only that, but the the List creator will be able to see how many times each member has been blocked so that they can decide to remove the person from the List or not.
Someone will create a way to check if a user is part of a specific List, such as a spam account List.
Spammers will start faking Twitter 'Listed' numbers by using their spam accounts to create Lists following one another.
Just like Twitter now recommends certain users you might want to follow, List recommendations will arrive too.
Some Lists will become so popular that List creators will be able to sell/rent/lease spots on those Lists.
Taking Twitter's lead, organizations will begin creating Lists of employees. For example, many newspapers now encourage readers to email their journalists. Instead, the newspaper will now create a List of their journalists to make them more reachable via Twitter.
Organizations will start using Lists as a way to thank people, such as a List of donors.
Bonus prediction
11. Someone will sue over having been left off a Twitter List or put on a Twitter Blacklist.
One Very Cool Thing That Twitter Did With Lists
By suggesting you try out Lists by following the Twitter team first, Twitter made instant celebrities of their employees without spending a dime.
More Reading About Twitter Lists
If you liked this article, I'm sure you'll appreciate my free ebook The Ultimate Twitter Job Search Guide.
Have you started using Twitter Lists? Post a link to your favorite List in the comments.
Coming Next: How To Use Twitter Lists for Job Search
Subscribe to JobMob via RSS or email and follow me on Twitter for more great Twitter tips.
— Jacob Share, Job Search Expert and Professional Blogging Consultant
Related posts:
A version of this article originally appeared here: