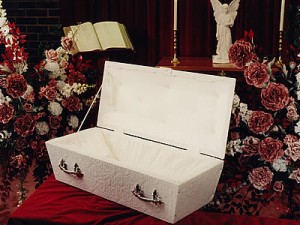 Dear HR Professional,
How many times has some­one appeared in
your door­way about to faint? "I was told to come to HR by my
Super­vi­sor, am I fired?" You reply with a smile, "Relax, you just
for­got a sig­na­ture on a ben­e­fit enroll­ment form, no big­gie, just
sign here and you can go back to work" right?
How many times has this hap­pened and it
was sim­ply for a sig­na­ture on a form, to pro­vide an update on FMLA
hours used or to ask for documentation?
It should be no secret to any­one who
has worked in HR for a month that it has a stigma amongst employ­ees of
all lev­els as the place for time out, the naughty cor­ner, a dun­geon
of doom, kiss of death — a most hor­rid place you want to stay away from
like the plague, the kind some peo­ple never return to their work area from.
My last employer had white boxes they
would pack employee per­sonal effects in — in front of staff try­ing to
work, while employ­ees were under­go­ing ter­mi­na­tion in HR. The joke
was, "I got called to HR, if you see a white box you know I'm not
com­ing back".
In addi­tion to los­ing an employee on
those days, one in which a sig­nif­i­cant invest­ment in train­ing,
coach­ing and men­tor­ing had been made and would be costly to replace,
pro­duc­tiv­ity and morale would be shot, psy­ches wounded, employee
sat­is­fac­tion eroded.. the list went on and on until it got down to
the bot­tom line..
Yet, unless all those peeps that still
like to keep me apprised of the drama have for­got­ten to men­tion it,
in spite of a C-Level over­load of brain power in the orga­ni­za­tion..
they have yet to learn why attri­tion is high, morale is low and if
other jobs were avail­able peo­ple would bail like on the last voy­age
of the Titanic.
It doesn't have to be that way. The
account­abil­ity of how human resources is per­ceived is self-fulfilled
prophecy. Here are my 10 best prac­tices to ensure being called to your
HR depart­ment is not viewed as the kiss of death.
Don't call peo­ple to HR with­out let­ting them know why.… Hello.
Being a role model for respect in the work­place and insist­ing that
the cor­po­rate cul­ture adapt it as an imper­a­tive is doing the
right thing… from the C-Suite down, of course.
Inter­nal mar­ket­ing for HR is as impor­tant a func­tion as any in the long list of what we do.
Ensur­ing super­vi­sory per­son­nel (through C Level — of course)
receive ini­tial and ongo­ing train­ing on how to deal effec­tively with
employee rela­tions issues is one of the best "best prac­tices" in HR I
can think of.
We should never for­get that while con­fi­den­tial knowl­edge is
shared on a need to know basis (hope­fully) an HR com­mu­ni­ca­tion
vac­uum is haz­ardous in an organization.
If you ask for feed­back (like e-sat sur­veys and even sug­ges­tion
boxes) be pre­pared to deliver the results along with
rec­om­men­da­tions for improve­ment to the big guns.. and stand your
ground firm that if they aren't going to be pre­pared to act upon
results they should skip ask­ing for opinions.
Dur­ing new hire ori­en­ta­tion let employ­ees know the best way to
com­mu­ni­cate with HR and what your department's strat­egy is to
com­mu­ni­cate with staff.
Cre­ate a ser­vice level agree­ment for HR, track, ana­lyze and
report quar­terly how you're doing. You'll find "areas of oppor­tu­nity"
for your­self *gasp* and put your depart­ment up for the same scrutiny
you are always sub­ject­ing oth­ers too.
Be there. Be avail­able. Be vis­i­ble. You don't have to take the
door off the hinge but you should have posted open door hours. Hid­ing
behind closed door gives the per­cep­tion you are not avail­able, you
are get­ting ready to fire some­one or you are plot­ting how to cut
benefits..
Get out from behind your desk and into the work area. Inter­view
ran­dom employ­ees about their jobs. Com­pare your notes to their job
descrip­tions and their last per­for­mance eval­u­a­tions. If the math
doesn't add up it's a pre­dic­tor their resumes are posted all over
Inter­net job boards.
I have a lot of HR friends with tons of
great expe­ri­ence. So chime in please, can you add a step to avoid
run­ning an HR dun­geon of doom?